November 20, 2021
DuckDuckGo Privacy Browser v5.102.2 Premium Mod Apk
---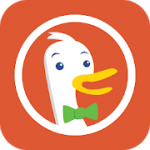 DuckDuckGo Search and Stories is a web browser that, after crowning itself the 'Privacy King' on Windows, now arrives on Android to bring you guaranteed secure browsing.
As opposed to Google Chrome and other popular browsers, DuckDuckGo Search and Stories assures you that your data and search history will be eliminated once you finish each session. No one else will be able to view or use that information.
---
Main Features :-
Tap Fire Button, Burn Data — clear all your tabs and browsing data with one tap.
Escape Online Tracking — automatically block hidden third-party trackers we can find lurking on websites you visit, which stops the companies behind those trackers from collecting and selling your data.
Search Privately — our private search engine comes built-in so you can search the Internet without being tracked.
Enforce Encryption — force sites to use an encrypted (HTTPS) connection where available, protecting your data from prying eyes, like from unwanted snoopers and Internet service providers.
Decode Privacy — each site you visit gets a Privacy Grade (A-F) so you can see how protected you are at a glance, and you can even dig into the details to see who we caught trying to track you.
Mod Info :-
ARM7 / ARM64
languages only en / ru (my Russian translation) (added and revised translation)
browser theme changed [Mint]
Looking from Google
applied some patches for anonymity
removed some unnecessary permissions
removed duplicate graphics
Google anti-analytics (just in case)
removed 3 suspicious links
removed debug information
min SDK
Performance tested on Samsung (6 Android) and Realme (10 Android)
This app has no advertisements
---
---
Download (13.7 MB) :
Torrent Download (Please Seed):
DuckDuckGo Privacy Browser v5.102.2 Premium Mod Apk | Magnet