April 20, 2021
Among Us v2021.4.2 Ultimate Mod Apk
---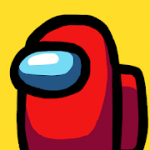 Among Us is a fun game that's packed with action and full of intrigue. Join a spaceship's crew as they travel through space… and discover that a lethal intruder has snuck aboard, intent on destroying the entire crew! All the action in Among Us plays out on a spaceship made up of different units. Start a new game -either online or against the computer- and you'll be assigned the role of either crewmate or imposter, which is kept secret from the other players. If you're the imposter, your goal is to wipe out the entire crew by sneaking up to them and hitting the kill button. But if you're part of the crew.
---
Main Features :-
Accounts linking with Google is fixed!
New map out now – The Airship!
Biggest map, all new tasks, improved mobility, and more areas to explore
New account system for reporting
Parental approval needed for underage players
Free hats included: Heart, Angry Eyebrows, Unicorn, Zipper, and more
Airship Cosmetic Bundle available for purchase, get fancy aboard the new map!
Mod Info :-
---
---
Download (138.8 MB):
Torrent Download (Please Seed):