July 28, 2020
Passcape Reset Windows Password 9.3.0.937 Advanced Edition Cracked
---
Lost password or locked Windows account is the most frequent problem data recovery specialists have to deal with. You could format the hard drive or reinstall your operating system, but that wouldn't keep you from partial loss of data, personal settings, and extra headache. Besides, all that can take some time. There is a quicker and more elegant way out of this situation. Just run Reset Windows Passwords from a bootable CD or USB and reset the forgotten password or unlock the account. It's a matter of a few minutes! Reset Windows Password is the most powerful solution for recovering or bypassing all types of Windows account passwords: user, administrator, Active Directory accounts, and domain users/admins.
---
What's New :
Simple, intuitive graphic interface.
Resets and modifies passwords of local users and administrators, domain accounts, Active Directory users, DSRM account.
Enables and unlocks user accounts.
Disables the password expiry option.
Resets SYSKEY (with full user passwords re-encryption), as well as recovers SYSKEY plaintext password
Advanced password lookup algorithms (Artificial Intelligence attack, password recovery using Passcape tables, instant password recovery for the most accounts with fingerprint logon, etc.)
Dumps password hashes from SAM/Active Directory, domain cached credentials.
Supports all versions of NT-based Windows, including Windows 10. Microsoft accounts are fully supported as well.
Changes account type (from Microsoft Live ID to local), different flags and properties.
Backup user passwords, Windows registry, and Active Directory
All editions include the utility for creating a bootable CD/DVD/USB disk from the downloadable ISO file with the application.
Supports 32/64-bit Windows.
Large collection of IDE, SATA, SCSI, RAID drivers.
Support for BitLocker encrypted drives.
Detects several operating systems installed on the computer.
Supports non-English versions of Windows and passwords in national encoding.
How To Install?
Unpack the archive to your hard disk, run IsoBurner.exe, select an item for creating bootable CD/USB and browse for the unpacked ISO image file. Proceed to the next Wizard step and write the ISO image to disk.
When making a bootable USB drive, keep in mind that depending on your target PC's type, you should select either BIOS- or UEFI-compatible partition scheme. Use 'Max possible compatibility' scheme if you know nothing about the target PC. This mode allows creating drives that can be booted in both BIOS and UEFI CSM modes.
 Insert the newly created bootable CD/DVD or USB into your problem PC, reboot it and change its BIOS/UEFI settings to make the boot device (CD-ROM, DVD-ROM or USB disk) first on the list. Save the BIOS settings, reboot once again and launch 'Reset Windows Password' from your bootable media. Some BIOS/UEFI have fast boot menu, typically called by hitting F8 key during startup.
---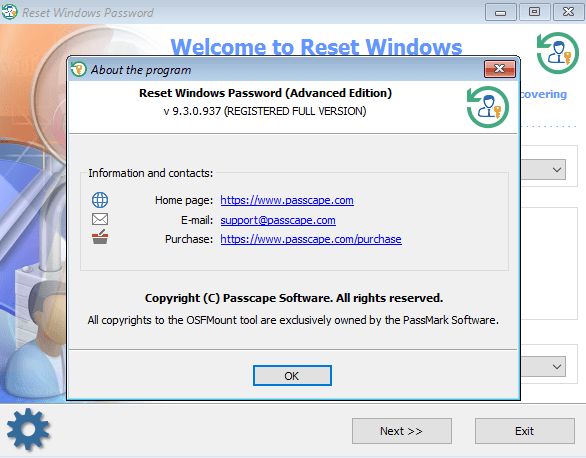 ---
Download (331 MB) :
Torrent Download (Please Seed):
Passcape Reset Windows Password 9.3.0.937 Advanced Edition Cracked | Magnet